C2 composite cutting head for the SteelTrak
Keencut was asked to design a head to reduce the bend on cut steel and aluminium composite materials, such as Multishield, Dibond, and Alupanel, to ensure successful flatbed printing and minimise waste.  The new SteelTrak C2 composite cutting head cuts with virtually no offcut bend. The new head creates no dust, no sparks and no debris. It is now fitted as standard on the SteelTrak. Existing users can also buy the C2 composite cutting head to upgrade their machine.
Rocker tool head for the Evolution3
Keencut's new Evolution3 Rocker tool head is a general-purpose cutting head. It has an ergonomic design which follows the natural curvature of your hand and offers maximum comfort for all-day cutting. The Rocker tool head will cut materials such as banners, cardboard and foamboard up to 10mm (3/8″) and can be used for occasional cutting of aluminium composite panels.
Ultra-wide format cutting with the Evolution3
Requests from wide format printers for Keencut extra-long cutter bars have been answered with the release of additional Evolution3 options.  Due to its unique Lift-and-Hover technology, the Evolution3 has no clamping bar sag so can now be offered in lengths up to 5.1m (200"). Even at these extended lengths, the Evolution3 SmartFold and BenchTop can be operated by a single user.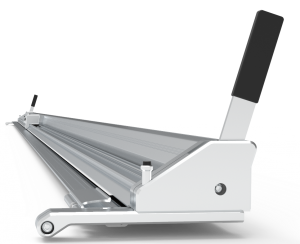 NEW Evolution3 Benches
Keencut has released a customised set of Keencut benches specially designed to create the optimum cutting platform for the Evolution3 SmartFold and BenchTop.