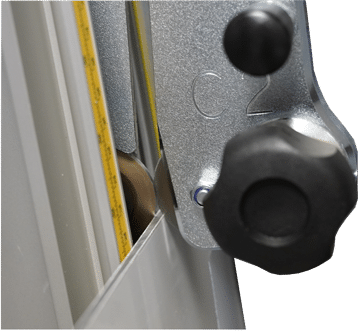 The New SteelTrak C2 cutting head guarantees successful flatbed printing on Steel Composite Panels (SCP) and Aluminium Composite (ACP) such as Dibond and Alupanel.
Any curve on the SCP or ACP above 2mm can cause interference problems when printing. With the new C2 head there is no bend at all on SCP, ensuring successful printing and minimising waste. Cutting is achieved without any dangerous dust or sparks, eliminating the risk of fires in the workshop.
The new head also dramatically reduces the bend on Aluminium composite material such as Dibond or Alupanel. With the old SteelTrak twin wheel cutting head the bend is 15mm this is reduced to 2mm with the new C2 composite cutting head.
The new head precisely cuts and finishes in one pass. There is no need for extra edge finishing, so productivity is increased, and safety guaranteed. The head's extended length also lessens the effort required for each cut -so it's even easier to use.
The SteelTrak is now supplied with the new C2 composite cutting head as standard and existing SteelTrak users can purchase the new head directly from their Keencut dealer.
Watch the video to find out more